Having a baby is a normal physiological event that our wise body knows how to do. The information and advice given on this course will provide a mother with knowledge about many of the procedures and options that are available to her today and will go a long way to enhancing her birth experience, no matter what her choices are.
What you can expect from this online course:
9 Learning modules
9 Pre-recorded masterclasses presented by Tina Otte
Bonus content / articles, hints and tips
53 Page downloadable Birth Sense manual
COURSE OUTLINE:
MODULE 1 | Birth Options
Active birth; Water birth; Home birth; Hospital birth; The hormones that help and hinder labour & how they work: Oxytocin / Endorphins / Catecholamines
MODULE 2 | When to go to hospital and signs of Labour
Pre labour signs; When to go to Hospital; How to time a contraction; Understanding the First stage of labour; The three 'P's of Labour plus two more; What happens when your "membranes release?"
MODULE 3 | Understanding Labour Pain
Understanding labour pain; Why is labour painful? Dealing with the pain of Labour; Coping Skills – unmedicated pain relief
MODULE 4 | Second & Third stage of Labour
Second & third stage of labour; Tips on Pushing; Delayed cord clamping; Writing a birth plan
MODULE 5 | Interventions
Induction of labour; Methods of induction; Foetal Heart monitoring; Intravenous fluids; Forceps; Vacuum extractor; Artificial rupture of membranes; Episiotomy
MODULE 6 | Medicated Pain Relief
Medicated forms of Pain Relief, including: Aterax / Pethidine / Entonox; Epidural Block; Spinal Block; How is it done? Side effects; Advantages & Disadvantages
MODULE 7 | Caesarean Birth

What is C/S Birth? What you need to know; Advantages and Disadvantages; Reasons for C/S – Maternal/ Foetal/ Placental; Planned / Unplanned / Emergency C/S; Theatre Procedure
MODULE 8 | The Golden Hour & Skin-on-skin
Explanation of the Golden hour; The importance of Skin-to-Skin contact at birth; S2S – Benefits to baby; S2S – Benefits to mother
MODULE 9 | Healing after Birth. The first three days
Bonding; Post-partum Health; S2S – Benefits to baby; S2S – Benefits to mother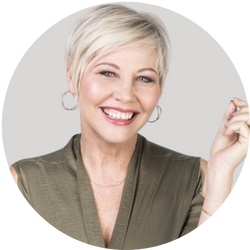 Presented by Tina Otte (REGISTERED NURSE / MIDWIFE)
Tina is a Midwife by profession, and studied further to obtain an International Certification as a Childbirth Educator. (ICCE)
In private practice teaching expectant couples for over 35 years.
Author of 5 books on pregnancy and birth which have been published internationally.
Specialist prenatal fitness instructor & trainer of health professionals
Certified infant massage instructor. (CIMI)
Former specialist editor of 'Your Pregnancy Magazine'.
Married to Ralph for 42 years and most importantly – mother of two beautiful adult daughters & grandmother of four!